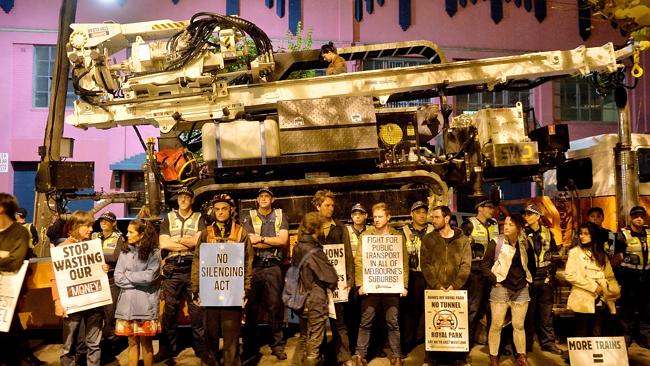 Herald Sun: Police search and rescue crew pulls down an East West link protester. Johnno Nash. 24 February 2014
East West Protester Kathleen Galea positions herself on the drill rig on Queens Parade, Clifton Hill. Picture: Nicole Garmston Source: News Corp Australia
Ms Galea on the drill rig. Picture. Nicole Garmston Source: News Corp Australia
Search and rescue police officers have pulled down an East West link protester who scaled drilling machinery in Melbourne's inner-suburbs.
The officers removed the protester after she scaled on heavy-duty equipment and refused to move.
Kathleen Galea, 23, climbed atop a large trailer and camped on drilling machinery about 5.30am and was taken down with a harness just after 9am, temporarily halting drilling works at a test site on Queens Parade, Fitzroy.
Police haven't charged the Heidelberg resident who rejoined the picket line.
More to come
johnno.nash@news.com.au