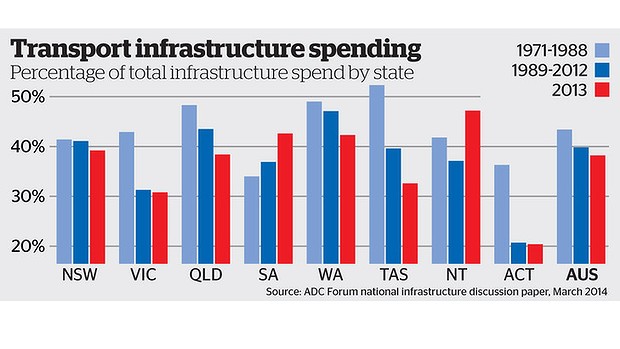 The Age: Transport investment 'an opportunity' for Victoria. March 13, 2014. Jason Dowling
Victoria's spending on new transport infrastructure as a percentage of what it spends on building is the lowest of all Australian states, new research has found.
Economist Peter Brain said the comparative under-investment in transport gave Victoria an opportunity to counter the decline of the manufacturing sector with transport projects.
Dr Brain's paper, to be delivered in Sydney on Thursday, as part of an infrastructure summit, shows transport made up 30.8 per cent of Victoria's gross infrastructure investment in 2013, down from 42.9 per cent in the '70s and '80s. The other states and territories, except the ACT, spend a higher percentage of infrastructure budgets on transport.
"It does seem that Victoria, in relative terms, is the most deficient in that particular category [transport]," Dr Brain said.
The relative underspending presented an opportunity, he said.
"In one sense it's good, because if we didn't have that shortfall we wouldn't have that potential driver of growth."
The federal government should help fund new infrastructure projects in Victoria, he said.
"Victoria has two very strong points to extract more money from the federal government, one is that it is going to have enormous economic shocks through the contraction of manufacturing … and secondly it has got a shortfall, in relative terms probably the highest in the country," he said. "In Victoria you have got to build the lot. You need three components: the rail, because you can't get any more trains on the system unless you do; linking the freeways with the East West tunnel; and completing the ring road link and the big thing is removing the level crossings," he said.
Professor John Stanley, chairman of the ADC Forum which organised the summit, will call for balanced investment in both roads and public transport systems.
A spokeswoman for the Napthine government said it "strongly believes in the positive economic impact from the investment in transport, which is why we are investing in the $4.8 billion Regional Rail Link; the $1.6 billion port capacity project; the $6 billion to $8 billion East West Link; the $2 billion to $2.5 billion Cranbourne-Pakenham rail package; and the $100 million Bayside Rail Improvement program to name but a few".
"It is also why we are continuing the development of the Metro rail capacity project, including an airport rail link and the Port of Hastings," she said.
Public Transport Users Association president Tony Morton said big investment in public transport projects in Victoria dried up after the Regional Rail Link project.
"We were hearing big promises of rail to Doncaster and Rowville and what we have seen is the government kick off studies and say, 'Mission accomplished,"' he said.