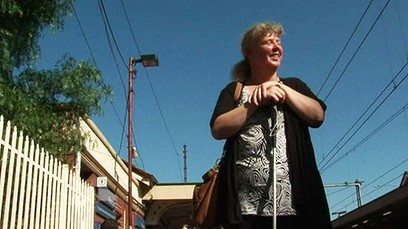 The Age: Blind commuter slams Metro  Reid Sexton, April 5, 2012
Annmarie Kelly at Newport station. 'I should have a right to know what train is coming in,' she says. Photo: Simon O'Dwyer
Metro rarely announces trains at Newport Railway Station, according to Ann Marie Kelly, who is blind and finds her commute confusing.
A blind woman has launched an action against the rail operator Metro in the Equal Opportunity and Human Rights Commission over a failure to provide adequate announcements at train stations.
Annmarie Kelly has claimed that the substandard announcements unlawfully discriminate against her on the basis of her disability, and she has demanded they be improved.
The commission has accepted her complaint, and a conciliator will look at the matter in two weeks.
The commission said last night it could not comment on the claims, but federal Disability Discrimination Commissioner Graeme Innes said the situation was most likely unlawful under Victorian law. Ms Kelly, 42, regularly travels from her home near Westona station in Melbourne's west, to Newport or the city.
But she said the lack of announcements had meant repeatedly boarding the wrong train at Newport, leaving her relying on strangers or train drivers for guidance.
Metropolitan trains from the city via Newport head to either Williamstown, Werribee by the Altona Loop, or Werribee express to Newport.
Although the station is staffed from the first train until last on the city-bound side, infrequent announcements meant that she often did not know which train had arrived.
When The Age was there for 40 minutes yesterday, not one of several trains out of the city was announced.
Ms Kelly said infrequent or inaudible announcements by drivers meant she often did not know if she had to get off at Newport on the way to the city, a problem that plagued her across the network.
The Public Transport Users Association said Ms Kelly's experience was not surprising. Announcements at stations across Melbourne were patchy, and automated announcements on trains often wrong.
Ms Kelly said that while there was a console with a button at Newport that broadcast information about train arrivals, it was sometimes wrong, and did not distinguish between Werribee services going through Westona and those that did not.
She said recent timetable changes added to her confusion, and that she accidentally ended up in Laverton a fortnight ago when a passenger misinformed her about the train's route.
I should   have a right to know what train is coming in," she said. "You can't read the information, there's no one on the platform to help you. I get very upset."
Mr Innes, who is also blind and taking similar action over announcements on Sydney trains, said the failure to make announcements would be unlawful in New South Wales, and he was confident it would also be in Victoria.
"Everyone else is provided with information, such as sign boards," she said. "All we're asking for is the equivalent of that information."
Metro could not say last night what the guidelines were for announcements, but said it was investigating Ms Kelly's concerns.