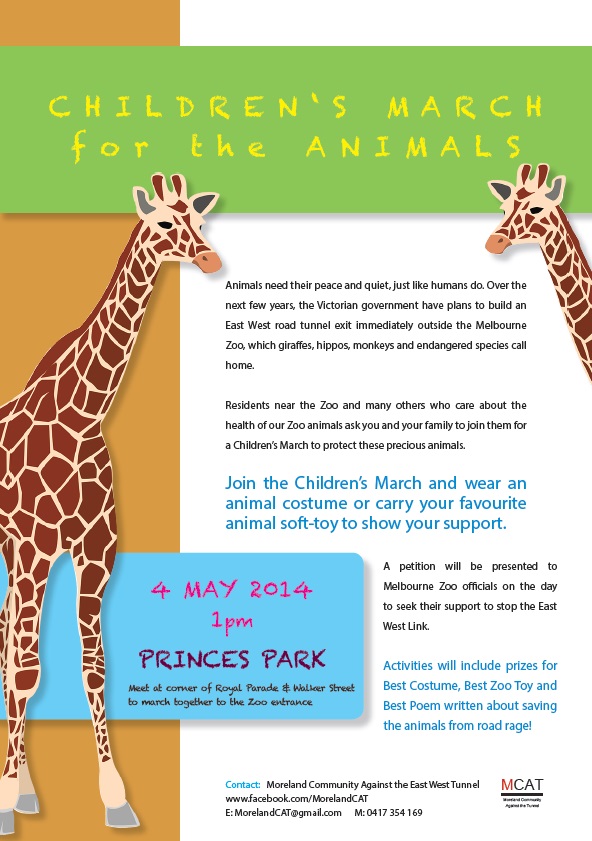 When: 1pm Sunday 4 May 2014
Where: Gather around the red brick Sport Pavilion in Princes Park on the footpath 20 metres south of Walker Street (Melway Reference Page29 H12).
By tram 19 it is stop #16 within eyesight of Visy Park, home to the Carlton Football Club.
By train, get off at Jewell Station on the Upfield Line and proceed two blocks to Sydney Road and then south to the assembly point at Princes Park, an 8 minute walk.
As 4 May is a Sunday, there is free car parking along both sides of Royal Parade.
What will happen? 1.30pm – Children, some in animal costume or holding a soft zoo animal toy, will form up behind a giant giraffe and streamers for a 500 metre walk led by Grand Marshal Rod Quantock across Royal Parade and onto the main entrance to the Melbourne Zoo.
Victoria Police and Event Marshals ensure a safe crossing.
What happens at the Zoo? 1.45pm – Arrive at the main entrance to the Zoo. Long large tables will provide activities for children. Beforehand, those carrying soft toys will place them in a mini-zoo.
2pm – Children move to a table to
1) paint zoo animal faces on paper plates;
2) cut out and colour drawn animals;
3) write a letter to Zoo officials asking them to protect the animals and
4) sign a scrolled petition seeking to cancel the East West Toll Road to save the animals from road rage. Adults will also be called on to sign the petition.
Contact: For further information
Moreland Council: Cr Sue Bolton, mobile 0417 583 664
Moreland Community Against the (EW) Tunnel: Michael Petit, mobile 0417 354 169
Find out more: www.facebook.com/MorelandCAT
Email: MorelandCAT[AT]gmail.com