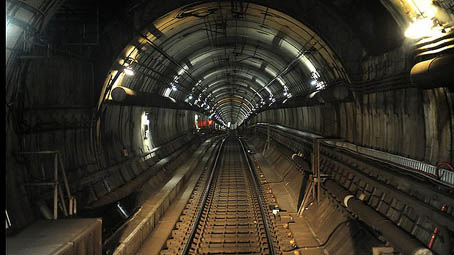 The Gillard government is set to announce funding for Melbourne's $9 billion metro rail tunnel, placing it at odds with Opposition Leader Tony Abbott, who has said he will back the east-west road link if elected prime minister.
Infrastructure Minister Anthony Albanese said the rail project – involving a nine-kilometre tunnel between South Kensington and South Yarra with five stations – was ready to build, foreshadowing a significant contribution from the Commonwealth.
"Melbourne Metro has been identified as a project of national significance," Mr Albanese told Fairfax Media. "We have already delivered $40 million to get it shovel-ready, and future funding is being considered."
The comments provide the strongest indication yet that the Gillard government is preparing to stump up the cash for the project, which is now at the top of Infrastructure Australia's priority list.
The tunnel is expected to increase the capacity of Melbourne's rail network by 20 to 30 per cent and eventually carry up to 60,000 passengers an hour.
In contrast, Mr Abbott has pledged $1.5 billion to begin work on the east-west link – a proposed 18-kilometre road connecting the Eastern Freeway to the Western Ring Road via the Tullamarine Freeway and the Port of Melbourne.
No business case for the road has yet been released, and details on the cost and design remain vague.
Asked if he was prepared to put up cash for the rail project, Mr Abbott suggested federal governments should not be in the business of funding urban rail projects.
To read more go to: http://www.theage.com.au/opinion/political-news/boost-for-rail-tunnel-20130404-2h9wq.html#ixzz2PXdbBGE5