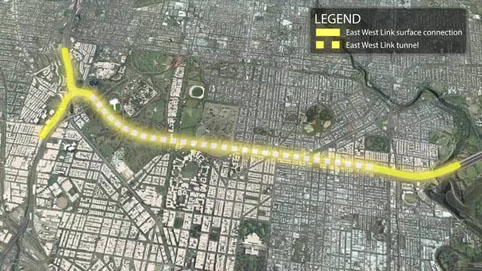 A CROSS-city toll road that will link motorists through a 6km tunnel from the Eastern Freeway to CityLink is now a certainty.
Premier Denis Napthine will pin his political future to the project, which could cost taxpayers up to $8 billion.
In his first State Budget, Treasurer Michael O'Brien pledged the first stage of the East West Link connecting the Eastern Freeway to CityLink in Parkville would be built by the end of the decade.
Mr O'Brien told Parliament the Napthine Government had reduced public sector spending and provided a surplus of $225 million, growing to $2.5 billion in four years, enabling it to fund big-ticket projects.
The Herald Sun has learned the private sector is likely to build and operate the tunnel only. Taxpayers will have to foot the bill for works, and toll revenues will go into public coffers…
Mr O'Brien said work on the tunnel – which is expected to cost between $6 billion and $8 billion – would begin by the end of next year, even though the Government is yet to secure private investment or Commonwealth funding.
And both Mr O'Brien and treasury sources indicated the project would go ahead regardless of whether it received Federal Government funds.
If there is no federal money Victorian taxpayers will have to take on more of the total cost and it may take longer, it is warned.
"This is one of the biggest projects that Victoria has ever seen. This will create economic activity; this will drive jobs," Mr O'Brien said…
Federal Opposition Leader Tony Abbott has promised $1.5 billion for the project if he is elected in September, and Mr O'Brien said voters would punish the Gillard Government if it didn't cough up.
Matt Johnson, Herald Sun, 8 May 2013
To read more go to: http://www.heraldsun.com.au/news/hospitals-and-transport-infrastructure-to-get-cash-injection-in-new-state-budget/story-e6frf7jo-1226636365889