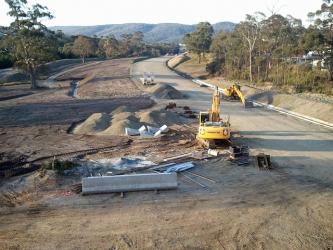 From Nicola Rivers's blog at the Environment Defender's Office.
We didn't think it was possible, but the fast-tracking of transport projects just got faster. Laws were passed last week amending the Major Transport Projects Facilitation Act 2009 which will make it easier again to rush through transport projects in Victoria.
The laws are nominally aimed at the East-West freeway link, but will apply to any transport project the Premier declares to be 'major' in Victoria.
We were concerned about the original Act when it passed in 2009 because it put all environmental approvals in the hands of the Planning Minister, did not contain clear requirements for what proponents had to do to be assessed; and reduced the rights of the community to participate.
The new laws take this even further:
A proponent will now be allowed to carry out 'associated works' on a project before getting full approval for the project. This is a concern as it makes it much harder to refuse or modify projects when works (often very substantial works) have already happened;
The Minister in charge of the project can delegate almost any of his/ her powers under the Act to any person – including the proponent or contractors working on the project. Alarmingly, this includes the power to order compulsory acquisition of native title rights, the power to revoke reservations of Crown Land and the power to order a local council to surrender its land
The proponent is no longer required to consider ways that impacts could be reduced or offset when doing an impact assessment.
It will now be easier to build a freeway through a national park
Requirements for what has to go in an impact assessment is totally at the discretion of the Minister – there's no longer a mandatory requirement even to do an assessment of all impacts
The Minister can now approve a variation to the project – potentially a huge variation – after the intial approval has been given with no further onus on the proponent and no requirement to consult with anyone
These amendments, in conjunction with the original laws, mean that government-sponsored transport projects will have open slather and nothing will stop them – not threatened species, indigenous heritage, national parks, or Ramsar wetlands.
The only thing that could stop these projects from harming the environment is if Federal Government used its powers under the EPBC Act to protect things that have been listed as nationally significant. If those powers are handed over to the States, as the Coalition is proposing, it seems highly unlikely the Victorian Government will use them to stop its own project.
The Environment Defenders Office is an independent, not-for-profit, community legal service, specialising in public interest environmental law.