The Age: East-west link prompts fears for primary school (July 17 2013)
Parents and teachers fear Clifton Hill Primary School could be forced to relocate during construction of the east-west link road tunnel due to noise, ground vibrations and pollution.  They have also raised concerns about the tunnel's ventilation station, which could be located a block away from the historic school.
Principal Geoffrey Warren said he was worried the school would have to move during the project's construction.  "It would have a significant impact. What we don't know is if that means forever or a temporary removal."
An entire row of mainly commercial properties on the northern side of Alexandra Parade is set to be bulldozed – further exposing the 130-year-old school to the massive construction site. 
Toxic Dump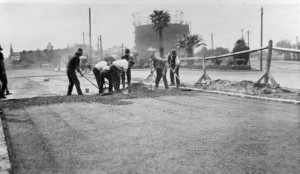 Workmen on the corner of Queens Pde and Alexandra Parade, The former Gasworks is visible in the background  
The  Linking Melbourne plans show another danger for the locals. The tunnel will  bore directly under the most highly contaminated part of the former Fitzroy North Gasworks.  This 6 Ha site bounded by Alexandra Parade, Smith St, George St and Queens Parade, is so contaminated that nothing can be built there.  The contamination is believed to be  kept in check underground by a  concrete capping on the site. Plans show the tunnel will likely disrupt the toxic plume, risking a leak into the Merri Creek via the main drain under Alexandra Parade. 
 Read full story.