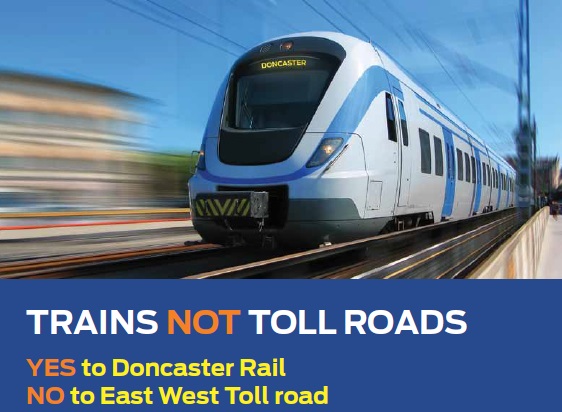 There will be a public launch of 'Trains Not Toll Roads' campaign on 13 June 2013 from 6.30pm to 8.30pm at the Fitzroy Town Hall preceded by 10 days of promotion and a 7am media event on the day.
Please note this date in your diary, as a big turnout is vital to the campaign.
The Trains not Tollroads Public Launch is from 6.30pm to 8.30pm on Thursday 13 June at Fitzroy Town Hall, 201 Napier Street Fitzroy.
Guest speaker at the "Trains not Tollroads" launch will be Alannah MacTiernan, former Minister for Planning and Infrastructure (2001-2008) in the Western Australia State Government and now Mayor of the City Of Vincent.
As Minister, Alannah oversaw many major road, rail and port projects including championing the 70-kilometre Mandurah Rail Line with its 11 stations and two tunnels, which at $1.5 billion, cost far less to build per kilometre than the public has been told it will cost to build smaller lines in metropolitan Melbourne.
Cr Fristacky said the public meeting would be supported by community organisations including the Public Transport Users Association (PTUA), Yarra Campaign for Action on Transport (YCAT), Yarra Climate Action Now (YCAN), Protectors of Public Lands Victoria, residents groups and others.
TO RSVP attendance telephone 9205 5025 or email: trains-not-tollroads@yarracity.vic.gov.au
For details on how to use public transport get to Fitzroy Town Hall, visit:  http://www.metrotrains.com.au/plan