Sue Jackson: 'Could you please ask your surveyors to exit Royal Park?'
Cathy was handed this notice yesterday by the East-West Connect contractors she met in Royal Park. Just in case you can't read it, it says: 'If you have any questions about the East West Link project please call 03 9828 5135'. So, meeting at 6.30 this morning at the park and spotting a group of surveyors already at work, Jill did exactly as requested. Her question was a simple one: 'Could you please ask your surveyors to exit Royal Park?' The somewhat bemused Lendlease employee on the other end of the line said that although she personally did not have the authority, she would certainly pass on the request. Surprisingly, when I left Royal Park for work at 8am, we were still awaiting our reply. (More in link)
Meanwhile in Royal Park, here's a sugar gum that would like to stay where it is. #EWLink #publicpark #vicvotes pic.twitter.com/fIN5qdAPAk

— Team Yarra Campaign (@yarra_campaign) November 20, 2014
Imagine what #RoyalPark looks like 2 surveyors? Terra nullius 4 #EWLink. QUIT PRE-ELECTION TRY-ON & @letvictoriavote pic.twitter.com/3IetiASogh

— Dame JillyvonKopfvol (@jillyfrees) November 20, 2014
Spare time this morning? 11am today: photo op at Ross Straw: show your support to protect Royal Park against #EWLink https://t.co/QQ0YaBanxH

— Team Yarra Campaign (@yarra_campaign) November 21, 2014
oppose #eastweslink & what it will do #RoyalPark? come to Ross Straw Field at 11 am today Saturday 22 Nov for photo shoot

— meer kat (@RoyalPark_4ever) November 21, 2014
Looks like @LendLeaseGroup wants a road thru here. That black dot is one happy dog living what park means. #EWLink pic.twitter.com/H4uOYZCw59

— The Andrew of Kelly (@KellyaAndrew) November 21, 2014
Ross Straw Field to be destroyed by @Vic_Premier for #EWLink Save #RoyalPark @AdamBandt @yarra_campaign @KellyaAndrew pic.twitter.com/Y9NB8m8lkT

— Rick Cutrona (@RicksPlanet) November 22, 2014
Big support for #RoyalPark this morning! #EWLink @yarra_campaign @RoyalPark_4ever @KellyaAndrew pic.twitter.com/PufwKw5DTB

— Rick Cutrona (@RicksPlanet) November 22, 2014
We will fight them in the parks & on the streets & next Saturday in the polling booth. No sleazy #EWLink! #springst pic.twitter.com/MpKu7nktll

— Peter Nagels (@Conceptlib) November 22, 2014
Napthine's kill zone! He must be joking. It is #EWLink that must die! #RoyalPark #springst #AbolishTheStates pic.twitter.com/iiJx7B8CJE

— Peter Nagels (@Conceptlib) November 21, 2014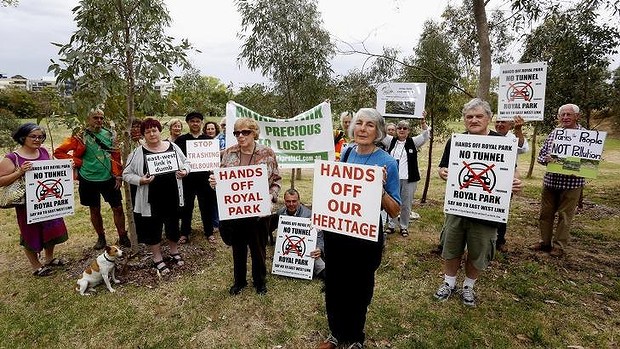 The Age: Park activists plan fresh East West Link challenge. November 23, 2014
Royal Park Community Group amongst trees that have been marked for removal to make way for East-West Link plans at Royal Park, Parkville. Photo: Paul Jeffers
Royal Park activists are preparing a new legal challenge to the East West Link, claiming Planning Minister Matthew Guy granted "unorthodox" exemptions to heritage protection to pave the way for the tunnel.
On October 21, Planning Minister Matthew Guy approved Royal Park's listing on the state's heritage register including what critics said were a series of "highly unusual" exemptions specifically for the East West Link project to be built through the park.
The minister had called in the heritage application after Heritage Victoria's executive director had recommended the 188 hectare park be registered.
Documents posted by Heritage Victoria say the approval exempts all construction work associated with the $6.8 billion tunnel from requiring a permit, including digging the tunnel using deep "cut and cover" techniques and creating a tunnel portal.
The exemptions cover the removal of trees and vegetation, the grade separation of the Upfield railway line and construction of viaducts, feeder roads, footbridges, shed, buildings and a carpark.
Road opponents said Mr Guy had ignored legal advice sought by the Heritage Council that suggested only work that did not "materially affect" the heritage significance could be exempt.
Landscape architects Ronald Jones and Bruce Echberg nominated Royal Park for heritage protection last year in a bid to stop the tunnel. Mr Jones said the recognition of the 150-year-old public park created by Charles La Trobe was "long overdue", but exempting East West Link was an abuse of process.
"It obviously trivialises the listing if the single largest imaginable threat to the integrity of a heritage place is allowed to proceed as an integral part of the listing process," he said.
Two community groups Protectors of Public Lands Victoria (PPLV) and the Royal Park Protection Group said they were seeking legal advice to prepare a new Supreme Court challenge.
Mr Guy defended the decision, saying he had considered the Heritage Council's independent report and the potential impacts of East West Link.
"The executive director of Heritage Victoria recommended a number of permit exemptions to ensure recreational and sporting uses can continue to be accommodated without requiring permits," he said.
"I have also exempted works for East West Link, after fully considering potential impacts on the heritage significance of the site. Requiring remediation and reinstatement of parkland after East West Link construction will ensure that the park's heritage values are protected," he said.
Former Labor advisor Andrew Herington, who is advising the tunnel's opponents, said Mr Guy's decision was "flawed".
"Advice from Susan Brennan, QC, that the Heritage Council provided to the minister made it very clear that the exemptions only applied to minor works," he said.
"If the tollway is not cancelled following the election, this issue will be taken to Court and prevent any construction."