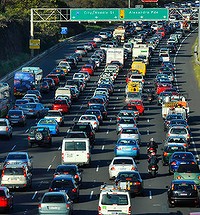 The Age: Council takes aim at Baillieu freeway link plan. Jason Dowling, April 6, 2012
Traffic crawls along the Eastern Freeway towards the city. Photo: Craig Abraham
The architect of the proposed east-west freeway connection from the Eastern Freeway to CityLink, Sir Rod Eddington, said road congestion in the corridor had worsened since his 2008 report that recommended the new link.
"There are real road traffic issues north of the inner city and I raised that in some detail in my report, and I hope the government will take a hard look at what can be done," he said. "Since that report was published, if anything the congestion has got worse."
The Saturday Age revealed the Baillieu government had begun early modelling on the proposed freeway, including options for part of it to be built above ground along Alexandra Parade in Clifton Hill to save money.
Unlike Sir Rod's 2008 recommendations, it is believed the Baillieu government is also considering exit ramps from the freeway to the CBD to help fund the project with maximum tolling revenue.
The freeway is expected to cost several billion dollars, with most of the connection likely to be in an expensive tunnel.
Some industry analysts believe tolling existing roads such as the Eastern Freeway connection to Hoddle Street, or closing lanes on existing roads to encourage use of the new freeway, may also be necessary to pay for the costly project.
When asked if the Baillieu government was considering tolling existing roads or closing lanes, a government spokeswoman said: "The Victorian government has sought Commonwealth funding to undertake the next stage of planning and development … including the development of construction, delivery and finance options.
"It is premature to speculate on the nature of any options that may or may not be proposed."
Unions and business groups are urging the Baillieu government to proceed with the project, but the Greens and Yarra City Council have vowed to fight the new inner-city freeway.
Yarra Council passed a resolution on Tuesday night to place signage "in prominent locations along Alexandra Parade seeking public support for the Doncaster railway line and public opposition to the east-west road tunnel". City of Yarra mayor Geoff Barbour said the council did not want the new freeway.
"We don't believe that it will actually solve the problems that are facing Yarra City," he said.
Cr Barbour said he was disappointed that the state government had yet to consult with the council on the proposed freeway connection.
The Baillieu government is expected to announce its intention regarding the proposed freeway later this year.