At the Trophy Shop Project Space – 131 Plenty Road, Preston. Opening night – 6pm-8pm, Friday 15 August. Exhibitions runs 11am – 5pm, 15, 16, 17 August 2014.  More than 30 artists have donated work to this #TunnelPicket fundraiser exhibition | Facebook event 
Royal Park sits majestically to the north of the CBD, the 'Lungs of The City', offering habitat to birdlife, open space for people to relax and room for dogs to run. Yet Royal Park is in real danger, an innocent victim of the State, on death row awaiting execution.
The historic streets of Collingwood and Clifton Hill are home to generations of residents, a mix of cultural backgrounds, students, the elderly and families. Many will be forced from their homes, some permanently and others having to endure years of invasive and disruptive construction. 
In this vibrant part of Melbourne people are living with the threat of the wrecking ball swinging above them.
The gracious Shot Tower stands against the sky, a landmark which carries great emotional attachment for many. Blasts would rock the core of its foundations threatening its future existence.
As each week passes citizens of this city meet and prepare for what they can do to stop the East West Toll Road and protect what they hold dear. When drilling for core soil samples began around the streets of the City of Yarra the people came out and did their best to hinder the process.
During one of the hottest summers on record protesters blocked trucks and occupied drill rigs, getting up at all hours of the morning for months on end. Citizens and residents of all ages, from all walks of life and political persuasions would gather in rain, cold and heatwave, passionate about where they live and the kind of community they want to live in.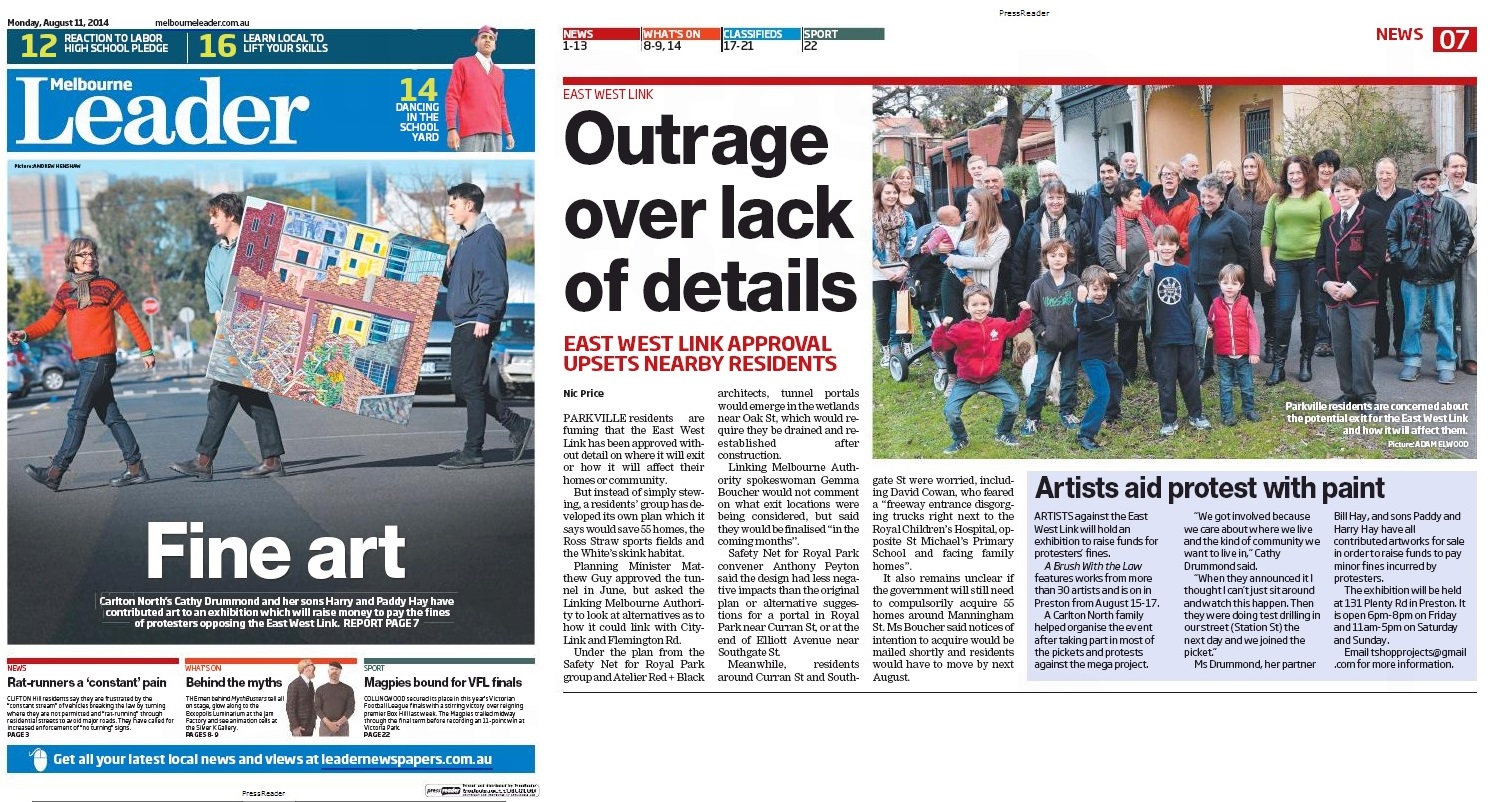 This exhibition, 'A Brush With The Law', is a show of support to those who have been prepared to physically put themselves in the way of State sponsored vandalism. Over thirty artists have donated their work in opposition to the destructive East West Tunnel.
It appears the Government has endless amounts of money to throw at this project while we rely on what we can raise ourselves. All proceeds from this exhibition will go towards the continuing battle to protect our homes, heritage, neighbourhoods and parkland.
Bill Kelly, Philip Faulks, Deb Williams, Harry Hay, Barry Dickins, Glenn Morgan, Cathy Drummond, Jeff Faulkner, Bill Hay, Kristin Headlam, David Harley, Simon Gardam, Andrew Forsythe, Ann Howie, Graeme Peebles, Eamon Scott, Paddy Hay, Nora Sumberg, Rona Green, Stu James, Bridgit Thomas, Vanessa Beck, Jon Hatfield, Sue Wyers, Stephen Armstrong, Michelle Baginski, Scott Anderson, Alex Zubryn, Alice Nixon, Gordon Hickmott, Ryan Wilson, Sarah Faulkner, Peter Westwood.