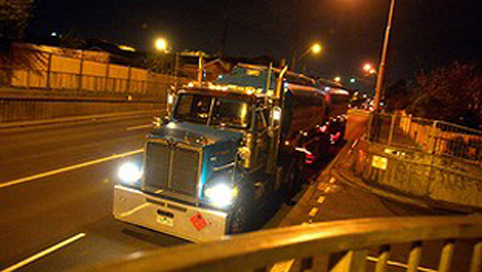 Giant trucks more than 36 metres long will be let loose on more Victorian roads under a Napthine government plan to move more freight across the state.
The government wants to see 36.5-metre road trains and B-triples on more regional roads, and expand the routes that longer B-doubles can use around Melbourne, in a bid to transport freight more productively.
But to do so it will have to overcome community fears about monster trucks and avoid "getting picked off by individuals or single issues", Roads Minister Terry Mulder told a freight industry forum on Wednesday.
"If we are to get community support for high productivity freight vehicles, we need to be sure that safety is at the forefront of our considerations," Mr Mulder said.
"It's going to be my job to sell that message to the community. Too often in the past the issue of bigger trucks, longer trucks, has been demonised and we've got to make sure that we take the community with us in relation to the introduction of these vehicles on the road."…
Mr Mulder's stated ambition to expand the available road network for super-sized trucks is in sharp contrast to views he expressed while in opposition, when he described a similar Brumby government plan as "like a cancer, slowly spreading their tentacles into every nook and cranny of Melbourne"…
"At just four metres extra in length over a standard B-double, the longer B-double offers a huge productivity dividend, particularly in the capability to carry two 40-foot containers," Mr Mulder told the Australian Logistics Council forum in Melbourne.
The use of giant trucks is currently heavily restricted and permitted on just a few roads in the state.
Adam Carey, The Age, March 13, 2013
To read more go to: http://www.theage.com.au/victoria/big-truck-to-roam-state-roads-20130313-2g0cr.html#ixzz2NSjN468r