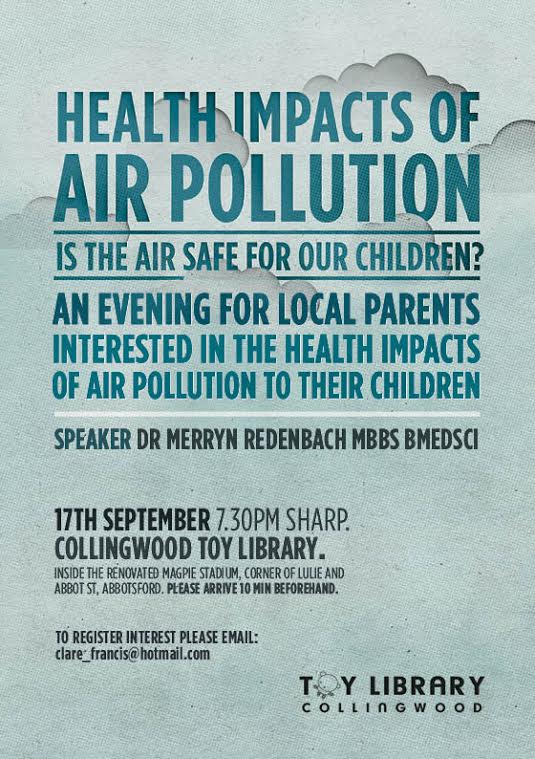 The East West toll road means more cars on the road, more climate pollution and more air pollution, with tunnel ventilation stacks near homes and a primary school. A new report from the Secret Agent (signup required to view report) has drawn attention to air pollution in areas near the proposed toll road, with the report raising health issues as well as linking air pollution to property prices.
It finds that property prices are falling in areas affected by the toll road proposal. "The Burnley Tunnel modelling showed for every metre further away from a ventilation stack, a home gained about $61 of value per square metre. Mr Osborne said if the vent affected parents' willingness to send their children to the school, it could further hurt property prices across the school zone."
Health Impacts of Air Pollution – Is the air safe for our children?
Wed, 17 September, 5:30pm – 6:30pm
Collingwood Toy Library, Magpie Stadium, Cnr Lulie & Abbot St, Abbotsford.
An Evening for localparents interested in the health impacts of air pollution to their children.
Speaker: Dr Merryn Redenbach MBBS BMEDSCI
Email: clare_francis[AT]hotmail.com to register your interest.
An evening for parents and community members concerned about air pollution will be held at the Collingwood Toy Library – "Health Impacts of Air Pollution: is the air safe for our children?" Dr Merryn Redenbach, Research and Liaison officer with the Doctors for the Environment, will be introduced by Clare Walter, Yarra resident and air quality advocate. The event is at the Collingwood Toy Library (corner Lulie and Abbot Sts, within the Victoria Park grandstand) on Wednesday 17 September at 7:30pm.