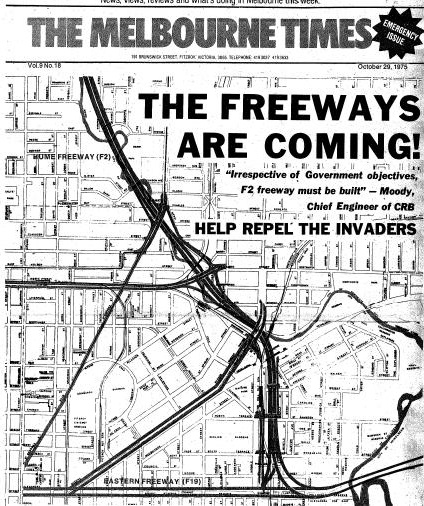 North Fitzroy residents were alarmed to learn that VicRoads still had a proposal to build a six lane arterial road between Hoddle Street and Holden Street in North Fitzroy.
The proposed freeway plan has been in their file since 1969, the freeway with massive interchanges was shown in extraordinary detail on the front cover of The Melbourne Times in 1975.
'Irrespective of Government Objectives, F2  freeway must be built'

– Moody, Chief Engineer of CRB (The predecessor of VicRoads)
The route was surveyed in 1972 by VicRoads. These photos come from that survey.
Intersection of Holden Street & St Georges Road, 1972
Rushall Railway Station and Old Colonists Society, 1972
Bridge over the Merri Creek,1972

Rushall Crescent looking South to United Kingdom Hotel – 1972
Only a sustained community effort stopped the freeway then, just as it stopped the East-West tunnel in 2008. But VicRoads only filed the plans away for an opportune time to bring them out again.