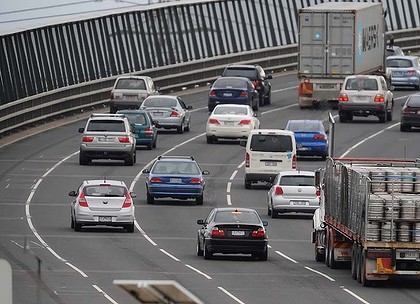 SPECULATION that new tolls could be introduced on existing roads in Melbourne has been fuelled after the Baillieu government blocked the release of documents about the issue.  The government, responding to a freedom of information request by The Age has in effect labeled 27 documents relating to future tolling of new or existing roads top secret.  It is expected that the proposed East-West Link road between the Eastern Freeway and CityLink would be partly funded by tolls.
But transport insiders say Treasury and government officials planning the link have also considered extending tolling to existing roads.  Options could include tolling a section of the Eastern Freeway, reintroducing a West Gate Bridge toll and tolling freeway off-ramps to Hoddle Street.
The Kennett government imposed tolls on existing sections of the Tullamarine and Monash (formerly South-Eastern) freeways when CityLink was built in the 1990s. The Age used freedom of information laws to request from the Department of Treasury and Finance documents that "relate to the potential introduction of new tolling regimes on new or existing roads in Melbourne".
The department's Mac Dalton replied: "The department has located 27 documents that were relevant to the request.  Access is denied in full to 27 documents."
Documents were withheld on various grounds, including that they had been prepared for cabinet, were "internal working documents" or were "commercial in confidence" because VicRoads is considered "a commercial undertaking".
Labor scrutiny of government spokesman Martin Pakula said the government should come clean on its toll plans.
"If documents have been prepared for cabinet about tolling existing roads, then Mr Baillieu should fess up rather than misuse FOI to help keep his plans secret," Mr Pakula said.
A spokeswoman for Treasurer Kim Wells said last night the government had to "give consideration to tolling if we hope to obtain Commonwealth funding for major road projects like East-West Link".
She said the government had "no plans to toll existing roads".
The RACV's Brian Negus said the organisation was "totally opposed to tolling existing roads" because the community had already paid for them with taxes.  But the RACV did not oppose tolling new roads.
"There needs to be a longer-term view of investment in transport infrastructure that does not rely on the drip feed of annual state government budgets," Mr Negus said.
Jason Dowling, The Age, July 4, 2012
Read more: http://www.theage.com.au/victoria/road-tolls-baillieu-accused-of-secrecy-20120703-21fkp.html#ixzz1zbQmFqzz