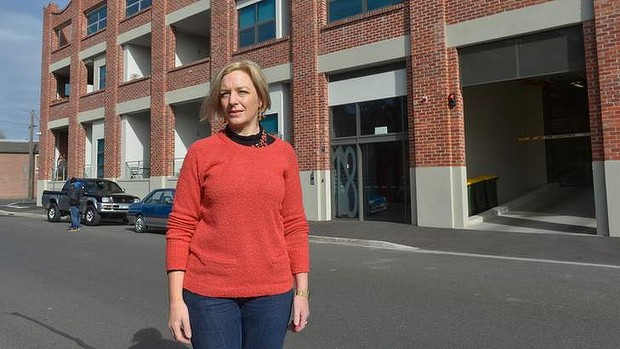 The Age:  Yarra council accuses state of trying to gag link criticism (August 8, 2013) Henrietta Cook, State Political Reporter at The Age
The Arden Street ramps will go directly past the new Kensington apartment owned by Janine Mackenzie. Photo: Michael Clayton-Jones
The state government has been accused of silencing criticism of the east-west link after it told Yarra Council it had breached its powers by campaigning against the toll road.
Local Government Minister Jeanette Powell used the Local Government Act to order the inner-city council to hand over details of how much it had spent on its Trains Not Tollroads campaign, which opposes the east-west link in favour of public transport.
In a letter to the council dated July 12, Ms Powell said it was appropriate for councils to make representations to the state government on preferred options before a government decision, and to make representations to alleviate the impact of the project construction. "It is a different matter to wage a public campaign against a project of state significance such as the east-west link that has been decided and which is lawfully within the jurisdiction of the state to determine … to do so, goes beyond the powers provided by the act."
The residents of Bent Street, Kensington, may face worse news, with their properties slated to be acquired.
Yarra mayor Jackie Fristacky said the letter was undemocratic and went against the Local Government Act, which says the role of councils is to advocate in the interests of the community.
"It's an attempt to silence the City of Yarra and its advocacy for its community and for Melbourne."
Ms Fristacky said there was a long history of councils challenging state government decisions.
She cited Yarra and Stonnington councils' campaign against clearways, which was supported by the Coalition.
She said Yarra council had allocated $200,000 in its most recent budget for the campaign and the funding details were publicly available.
A state government spokeswoman said Ms Powell had "written to the City of Yarra concerning an issue of the appropriate use of public resources under the powers delegated to councils by the Local Government Act 1989".