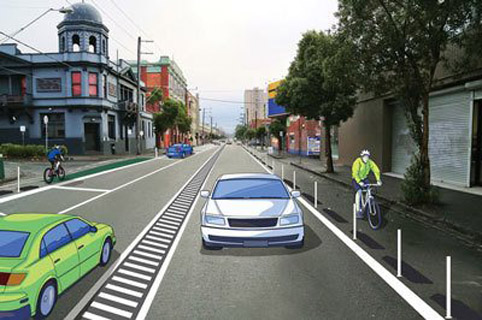 A resolution recommending that the "separated cycle lanes on Wellington Street" proceed to the detailed design stage was passed at last night's council meeting.
However, we still need to stay alert.
It was opposed by local business, Labor and independent councilors who moved a motion to replace the "separated lanes" with Langridge Style vibraline lanes – these are "rumble strips" or "audible/tactile lines".
Interestingly, the  vibraline lanes have since been removed from Langridge Street as dysfunctional.
This motion was defeated at 4/4 when the mayor exercised her vote.
Ycat , as part of our submission, posed a question to council on the impact, if council does not approve the separated bike lanes in Wellington Street,  on the development/implementation of Yarra Council's Bicycle Strategy and the future development of  sustainable transport polices and strategies in the City of Yarra.  This was accepted and Council's response will form part of the next report.
Clearly, the loss of separated bicycle lanes at the detailed design stage ,will effectively stymie Council's Bicycle Strategy and the future potential for other sustainable transport options.
cheers, freda (Ycat)