Some of the worst impacts from the Eastern Portal of the proposed East West Link will be from the flyover from Hoddle St to the Eastern Freeway (shown in blue below).
The 'Sound Wave' is not a reference to Utopia but an lame attempt to make a but ugly overpass look modern, with undocumented sound attenuation properties.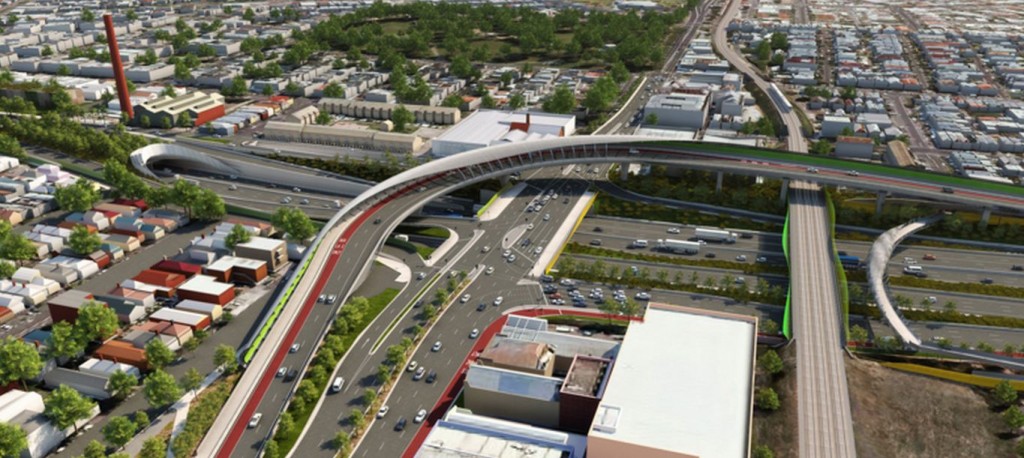 One way to get an impression of just how high this enormous flyover will be is to look at the Artists impression of the portal taken from the roof of the 'Sound Wave'. Its a long way down.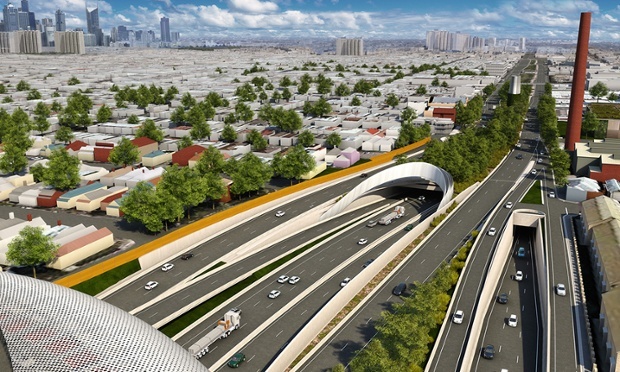 This is no ordinary overpass because the base of the road will be above the overhead wires on the nearby railway bridge.
This puts the road on a level that's higher than Clifton Hill, i.e. St. Johns bluestone church.
As trucks climb this new ramp they will change into low gear and black soot will belch out to drift down to densely populated Collingwood, where residents are already breathing some of Melbourne's worst air pollution. Once the trucks reach the top they will blast the air brakes to slow down. The sound wave is shaped like a parabola to focus this sound onto the unsuspecting residents of Abbotsford.
This is unacceptable engineering in such a densely populated residential area and must be stopped before it is built.
The government comprehensively failed to justify this flyover that the Assessment Committee concluded wasn't even needed.
The only reason for the overpass is design cost. A quick and dirty design met the short political timeframes. A low-impact design requires more complex engineering which takes longer. It also requires engineers confident to challenge their anxious project managers and bean counters. An improved design would use an underpass, not unlike the current arrangement, with less tight bends.
If you think the existing loop is the cause of congestion or not able to handle the traffic levels coming out of the city in the evening peak, take a look at Google traffic reports. In this animation a series of snapshots was taken between 3:30 pm and 6:30pm last Thursday (Oct 9) and the existing on-ramp never showed congestion during the entire evening peak. This illustrates  the Assessement Committee's finding that the overpass was unnecessary for the estimated traffic now and in the future.
Some serious (red) congestion can be observed on Victoria Parade and Hoddle Street leading to Johnston St.  But no, the East West Link won't solve that.